Off the Wall
Sat. 17th March., 2001

Sunlight Chambers was built on the corner of Bigg Market and High Bridge in 1902 for Lever Brothers, soap manufacturers. They employed nationally renowned architects W. S. Owen.

This quirky office building is attractive, curiously coloured and has a frieze between storeys that depicts work and honest toil.

This week I have concentrated on murals. This one is general. Lever Brothers formed their soap factory in Liverpool and named the place "Port Sunlight", and their most famous product was "Sunlight" soap.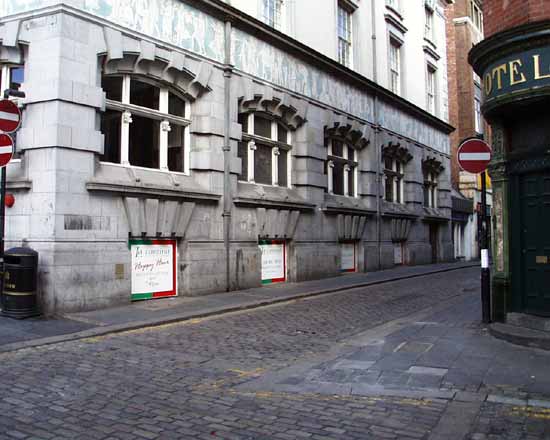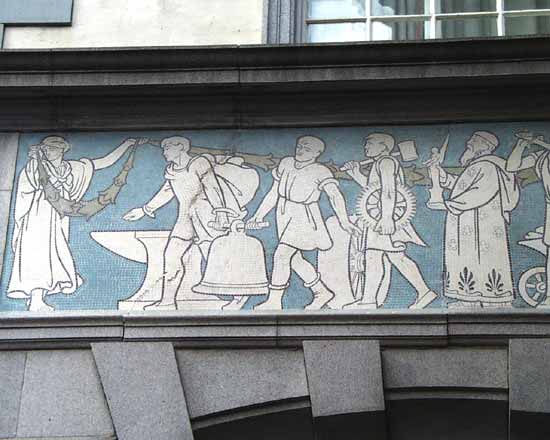 Here is the scene at the foot of Bigg Market. The Rutherford Memorial Fountain was moved higher up the street 18 months ago

Lever Brothers' company was formed along altruistic lines. Its founder was William Hesketh Lever who bought land near Birkenhead in 1887 and later acquired land for the cultivation of cocoa palm in the Solomon Isles and the Belgian Congo was able to control his sources of supply.

The principal rival of the day was Proctor and Gamble and by the early years of the 20th century it had large premises near the river at the Swirle. The factory was demolished during the 1980s.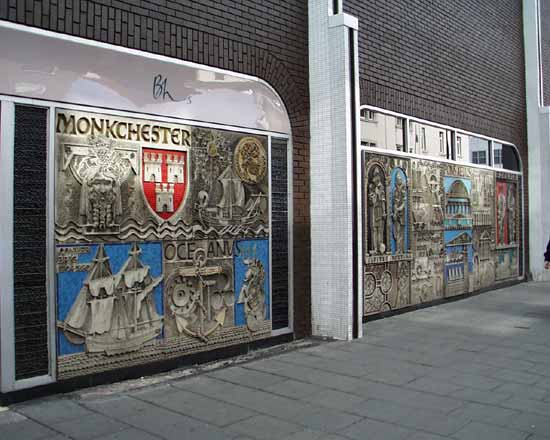 Here on the side of the British Home Stores premises at Northumberland Road a cast mural was incorporated into the building. Scenes on the panels depict Newcastle's history and power as a regional centre. From Jupiter and Fortuna, mythical creators, to the invention of the light bulb and the building of massive iron ships and bridges, our heritage is mapped in these stones.

The artists were Henry and Joyce Collins. It is created in cement fondue, mosaic, paint and stone. It was commissioned by Newcastle City Council and Northern Arts, and completed in 1974.
| | |
| --- | --- |
| | |
| | |
| --- | --- |
| | |
| | |
| --- | --- |
| | |
The present building was erected in 1974, replacing handsome Art Deco premises designed by the C & A Modes architect in 1931. This magnificent building was only to last 36 years before being flattened to make way for unobstructed floorspace and modernity. The character of the present building is well represented by those empty boxes at roof level. The mural was a bright idea, well liked by residents and visitors, but is seems strangely tacked on as an afterthought. The remainder of the building is unattractive and functional.

The hideous NCP car park behind is ten orders of ghastliness further down the scale and deserves no comment.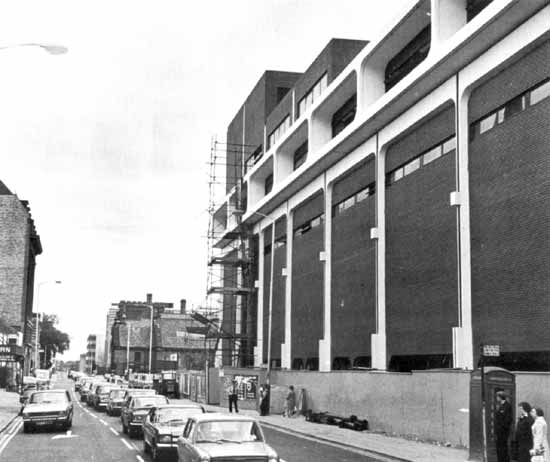 Here is the scene in 1974 and the new BHS and C & A shop rises from the rubble of the previous white faced building that only lasted 36 years. The present building has been up for 27 years now, so shall we pull it down in 9 years time? (or shall we do it sooner?!!)

Northumberland Road was a busy thoroughfare in the 1970s, but it has now been blocked off at the Northumberland Street end since that street's pedestrianisation during the mid 1990s.

It used to be that the shop, office and factory architects included local or historical detail in their buildings. They strove to harmonise with the existing architecture whilst providing modernity. With a few notable exceptions, today's building projects seem to extoll the virtues of the ephemeral and massage the egos of the current Directors or owners whilst rudely ignoring the surroundings into which they are catapulted.

Click here to see high quality album copies of these and other photographs from the same shoot
| | |
| --- | --- |
| | |
| | |
| | If you should arrive here via a search, or be missing the navigation on the left hand side, click this button. |