Exhibition
Park
Sat. 23rd Sep., 2000

The open space to the north of the city, the Town Moor, is kept free from building encroachment, and is held in trust for the Newcastle citizens by the Freemen of the city, and the City Council. The Freemen have the right to graze cattle on the moor, and herds of wandering cows can be seen to this day.

The area at the south-east corner was fenced off and for years was the home of the Town Bull. This part was called Bull Park for many years. It was changed to a public park during 1887 and renamed to honour Queen Victoria's Jubilee.

The real change came about in 1929 when the area was used to host The North East Coast Exhibition, the biggest show to hit the city. It was an attempt to showcase local industry and boost the local economy during a time of depression. Attractions included a Palace of Engineering, a Himalayan Railway, and an African Village! During its six month life 4½ million visitors passed through the turnstiles, and when the pavilions were dismantled the area reverted to a public park.

The Palace of Arts was built on a steel frame to protect the exhibits, and was the most substantial of the buildings. It was left intact when the rest were dismantled. It now houses the Military Vehicle Museum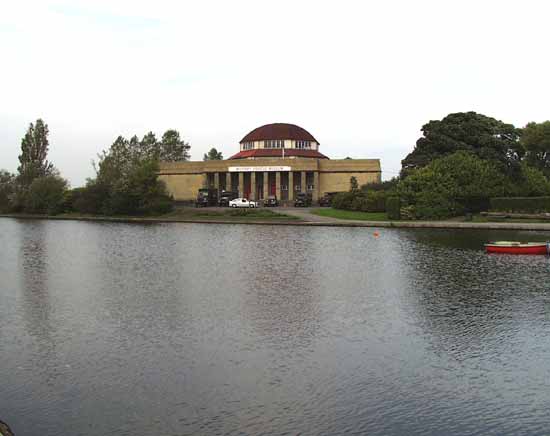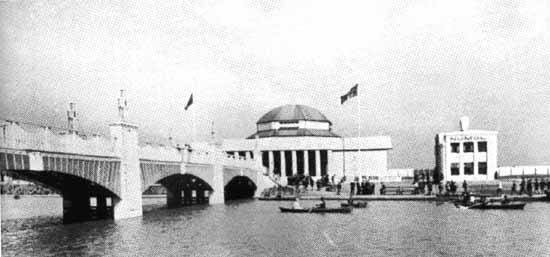 Photo property of Mr. Stanley Middleton
Here is the same view during the exhibition. It opened on 14th May 1929 and closed on 29th October the same year. This pavilion, the promenade, once the grand Main Avenue, the boating lake, and Exhibition Ale from Newcastle Brewery are lasting reminders of that summer of sunshine and celebration of geordie enterprise.

Photo property of Tyne & Wear County Archive
The archive photo shows the bridge over the lake and the Empire Marketing Board Pavilion on the left and the Palace of Industries on the right, which belied by this picture, extended for many thousands of square yards beyond.

The Main Avenue is now cut off from the entrance by the Central Motorway East. This is the view looking north towards the Palace of Arts. Below is the Main Avenue from the other end looking south, and then the view from the same place during the Exhibition.
| | |
| --- | --- |
| | |
| | The Empire Pavilion has been replaced by this kiddies' play area. Safe equipment and floorcovings make this a fun place for the little ones! |
This little house was built shortly after the Exhibition was over and now houses the equipment for the model boat club. It is also a popular meeting place those with romance in mind.

The view of the lake along its length. Various valves under the inspection plate in the foreground allow excess water into the drains, whilst during warmer periods the level can be topped up. The average depth is 2 feet (61cm).
| | |
| --- | --- |
| | |
| | This side view of the Palace of Arts shows the site of the hall built to house "Turbinia" the first turbine boat built by C.A. Parsons in 1897. It was only ever an experimental vessel with no other purpose than to demonstrate the power of the newly developed marine steam turbine. This building was for many years the Science Museum, until its transfer to the old Co-operative Warehouse in Blandford Street. The Turbinia Hall had to be dismantled to extract the boat to its new location. |

The building now houses a collection of Military vehicles and associated items. Today it was hosting a party of elderly Jesmond residents. The hall rang to excited chatter and 1940s piano music.
| | |
| --- | --- |
| The museum staff often wear military uniform. They are volunteers, as the whole effort is a collective and a registered charity for the purpose of fund raising. The museum does not purchase the vehicles but houses those belonging to enthusiasts. | |
This view of the dome clearly shows the steel framework, owing much to the shipbuilding tradition from the nearby yards.

Below are two well preserved Second World War vehicles. Left is an original Willey's Jeep (USA), later models were Ford copies, and a Hillman staff car (UK).
| | |
| --- | --- |
| | |
| | |
| | If you should arrive here via a search, or be missing the navigation on the left hand side, click this button. |