Old Bus Sta
Sat. 10th Feb., 2001

Just south of the combined Police Station, Magistrates' Courts, and Fire Station on Pilgrim Street is Worswick Street, site of a bus station until 1st April, 1996.

The street was named after

James Worswick (1771 - 1843) who was ordained a Catholic priest in 1795 and bought a house and garden in Pilgrim Street and built a church in the garden, opening St. Andrew's in 1798. It was a mission to the secular in Newcastle. The house has gone long ago, the site being now covered by the 1934 Fire Station, but his church is still a vibrant place of worship.
Opposite the church, adjacent to the old Bus Station, is Worswick Chambers. This building dates from the closing years of the 19th century. It is adorned with some curious carved heads.

About the only occupant apart from those you can see on the ground floor, is the Northumberland Training and Enterprise Council.

So, those weird heads remain as a silent tribute to... well I don't know.

I wondered if they were famous actors of the day, as they are all wearing stereotype costumes. There is an Egyptian Pharaoh, an African Explorer, and Arabic nomad, even one who looks a bit like Abraham Lincoln!
Here on the Pilgrim Street side the characters include a Chinese man in a coolie hat. There is no common connection that I can see, and my research, albeit about ten years ago, turned up nothing other than speculation.

The lower floor used to be a large pub and performance area called "The Black House", and I am sure that those faces would have been a conversation topic for the Edwardian revellers.

This building is largely empty with no visible effort to attract tenants. I suspect that it will be bulldozed to make way for yet another car park.
Although Worswick Chambers may not be the most delightful building in the city, I don't think it deserves to be raised to the ground. Surely the cost of remedial and alteration works could be much less that starting from scratch.

I suspect that the tear it down advocates will say that there is no longer a need for office accommodation in this part of the city. After all, they would continue, the nearby Swan House, built in the 1960's, and the old Bank of England from the same era, still remain empty, despite their being much more modern and desirable than Worswick Chambers.

Surely an imaginative change of use could be considered; housing for example!

Northern General Transport built this city terminus, just north of the Tyne Bridge, in 1929. It served routes to north and mid County Durham, some points further south, and South Tyneside and Wearside.

This followed the opening of the Tyne Bridge on 10th October, 1928. Previously, services had to use the High Level Bridge, that was subject to tolls until 10th May, 1937.

The hastily erected brick offices and tin roofed bus shed immediately reaped the benefit of the free river crossing, despite the danger of a 14ft 6in (4.46m) central clearance arch on the approach to the bridge. Double deck buses are built to a maximum height of 14ft 6in!

Here in January 1971 a 1960 Leyland Atlantean loads for South Shields in an experimental livery never adopted, and a front entrance 1965 AEC Routemaster prepares for the trip to Brady Square, Washington New Town. At this time Washington was a fast growing community and these larger buses were required to carry the loads. This bus was operated by Northern from new and withdrawn in 1980. It spent a year in Redhill, Surrey in an abortive attempt at restoration. It then spent five years in Carshalton as an enthusiast's plaything, then spent two years with Magic Bus in Glasgow before being scrapped in January 1989.
The same scene today, and the buses have gone. Eldon Square and Newgate Street termini have largely replaced this outdated bus station. It was placed on the edge of the commercial district because of the denial of other sites at the time of building by the Corporation, that wished to hold a monopoly of city termini.

Today this place is an unofficial car park, but I suspect that its days are numbered. I am sure that it will not be mourned by many as it was a rather dangerous cramped and windy place. It was a compromise from the start.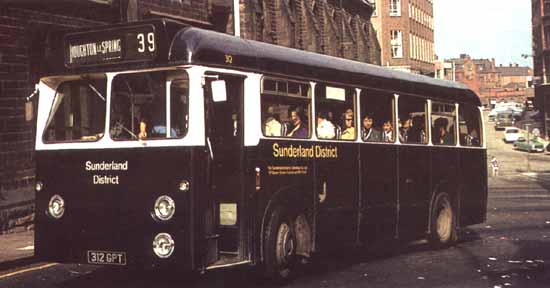 Here in 1972 this 1960 Leyland Tiger Cub with MCW body departs on the joint Northern service to Houghton-le-Spring, a village between Sunderland and the City of Durham. Because of low bridges this service could only be run with single deck buses. When the Tyneside Metro started, this service was shortened to Heworth Metro Interchange. Sunderland District Omnibus was absorbed into Northern General, part of the National Bus Company, in 1974. St. Andrew's Church is visible behind the bus. The buildings in the distance have now been replaced by Metropole Place, a technology park.
Today St. Andrews was still doing brisk business, and the blue rooves of the technology park suggest the future for this area.

The curved building on the right in the middle distance is on one corner of Carliol Square, and used to contain the main city telephone exchange housing an army of operators with their cheery "number please". This, of course, is now carried out in a matchbox with a bag of chips!
| | |
| --- | --- |
| | |
| | |
| | If you should arrive here via a search, or be missing the navigation on the left hand side, click this button. |